A spin-off of my artists alphabet. The challenge was to draw the first letter of designer's name into one of their iconic chairs. It worked!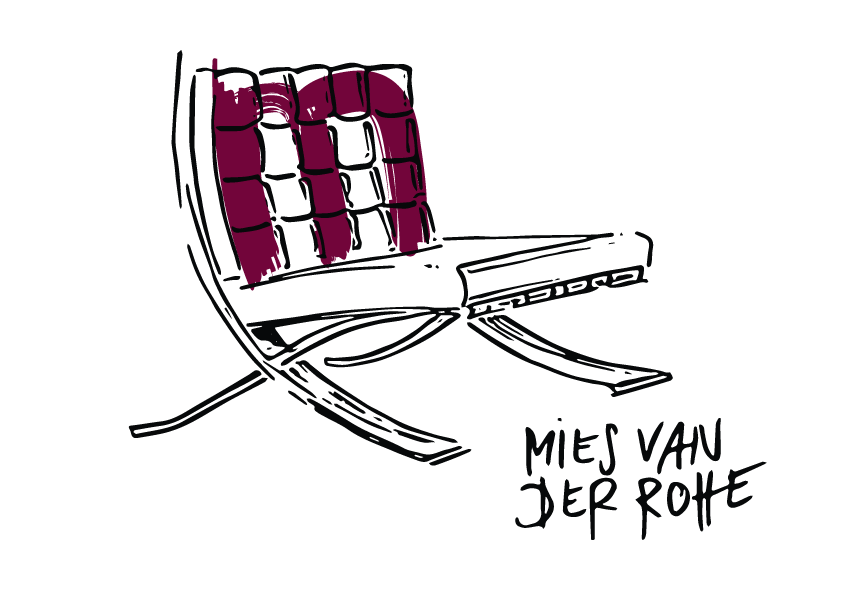 Ludwig Mies van der Rohe (1886–1969) designed the Barcelona Chair for the German pavillon at Barcelona's World Fair 1920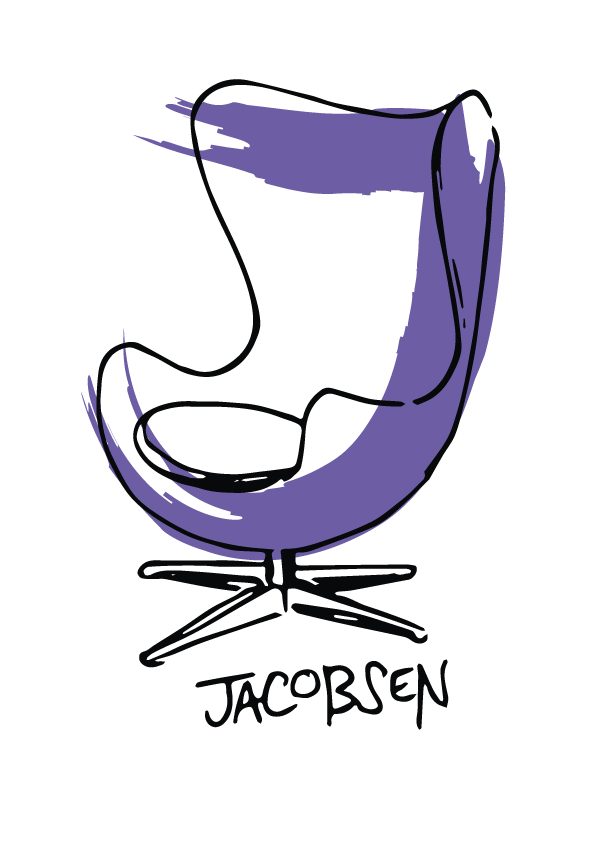 Danish designer and architect Arne Jacobsen (1920–1971) designed the Egg for SAS Royal Hotel in Copenhagen.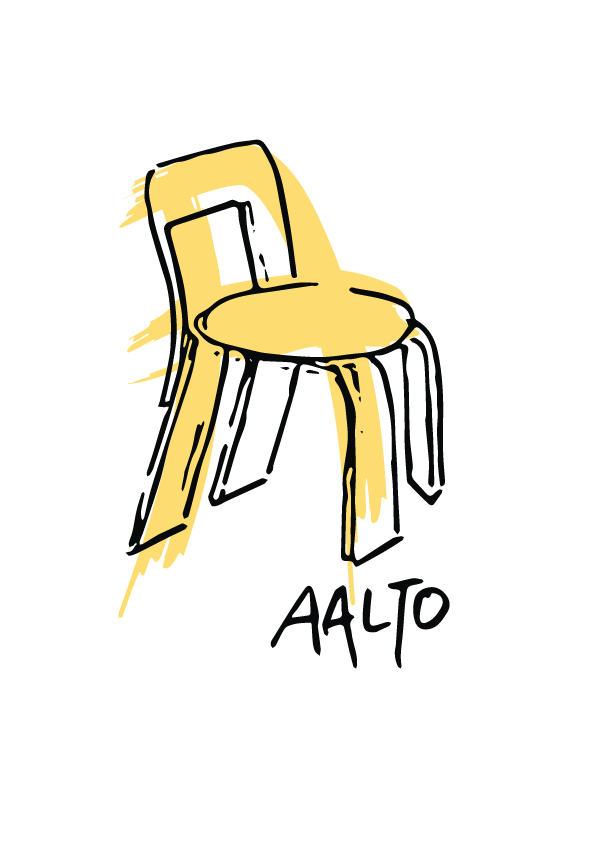 Finnish architect and designer Alvar Aalto (1898–1976) was famous for his organic architecture. This design is the chair N65 for children.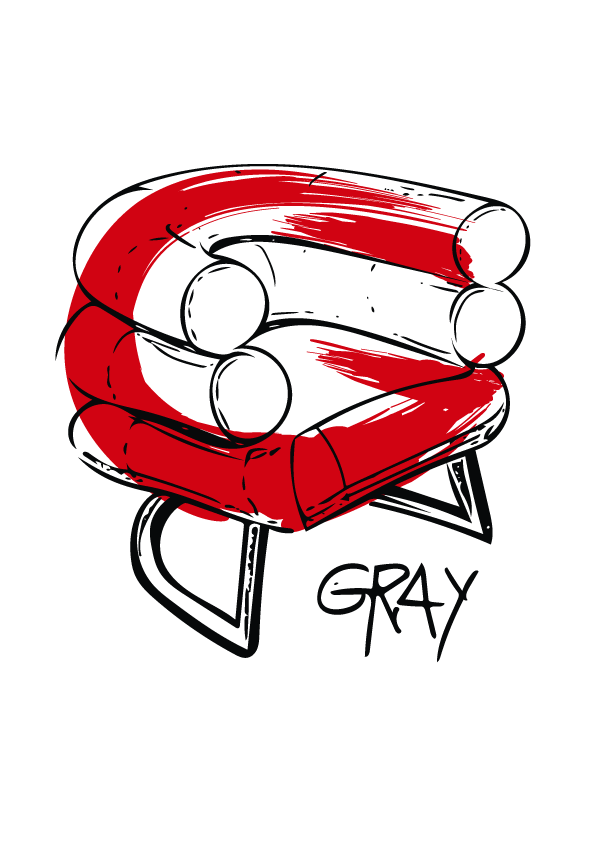 Irish interior designer Eileen Gray (1878–1976) was influenced by Art Nouveau and Japanese techniques. This Bibendum chair resembles the Michelin Man.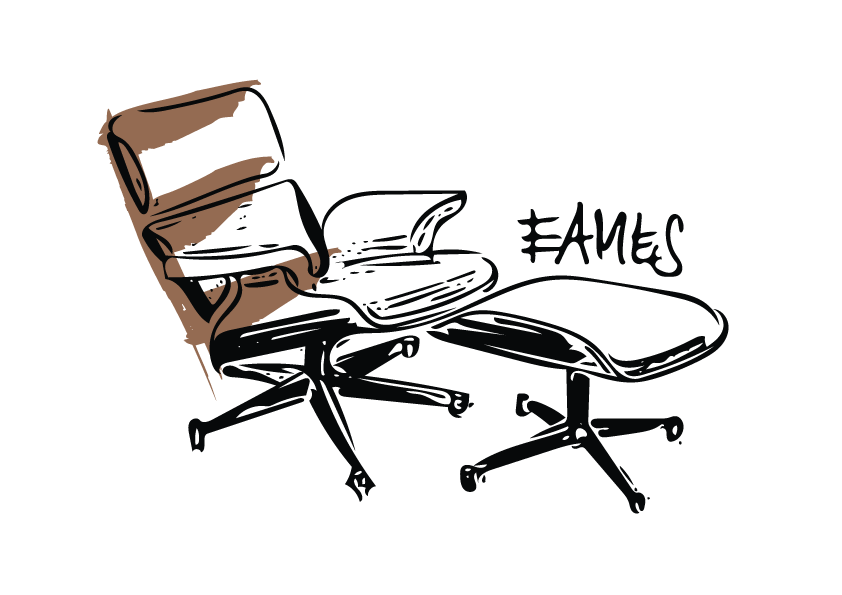 Ray (1912–1988) und Charles (1907–1978) Eames, US architexts, interior designer, exhibition designer and photographers did not only design furniture, but everything down to the hang tag. Their Lounge Chair is iconic, built on curved plywood shells, a technique they got to know in their work during WWII.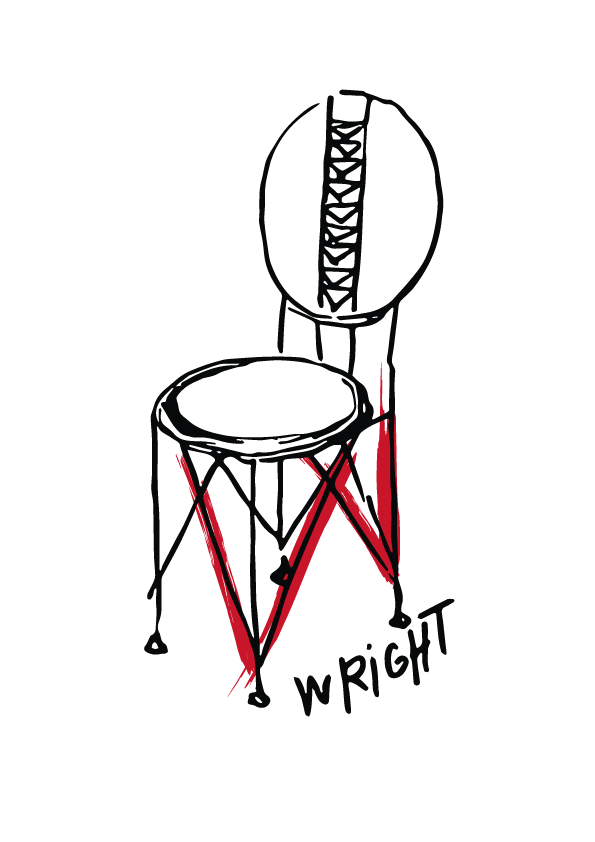 US architect Frank Lloyd Wright (1867–1959) is famous for his buildings, which he integrated into the scenery. He also was an interior designer and designed furniture. This chair was designed for entertainment facility Midway Gardens near Chicago.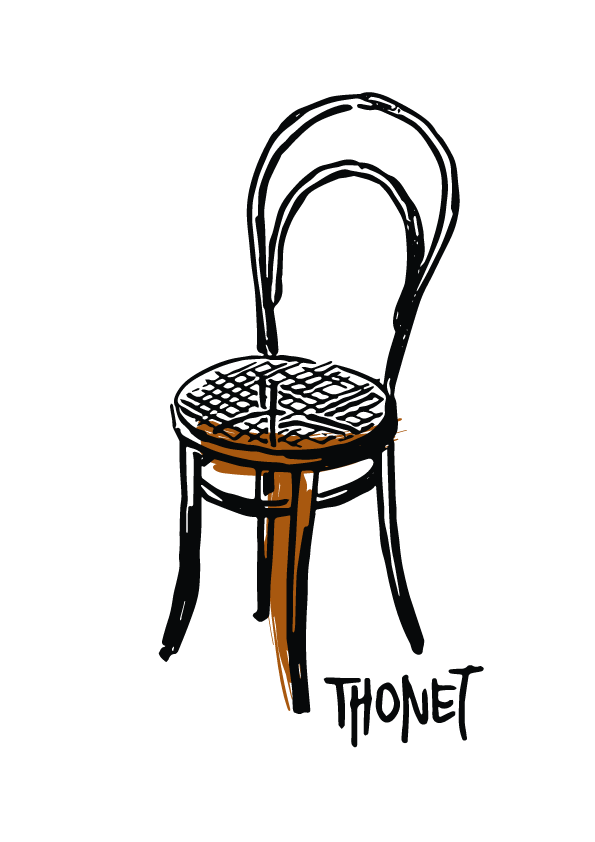 German-Austrian carpenter Michael Thonet (1796–1871) invented the bent wood production method which allowed him to produce light-weight yet stable furniture typical of coffee houses in Vienna. Later his company produced Bauhaus steel tube furniture. This is Chair No. 14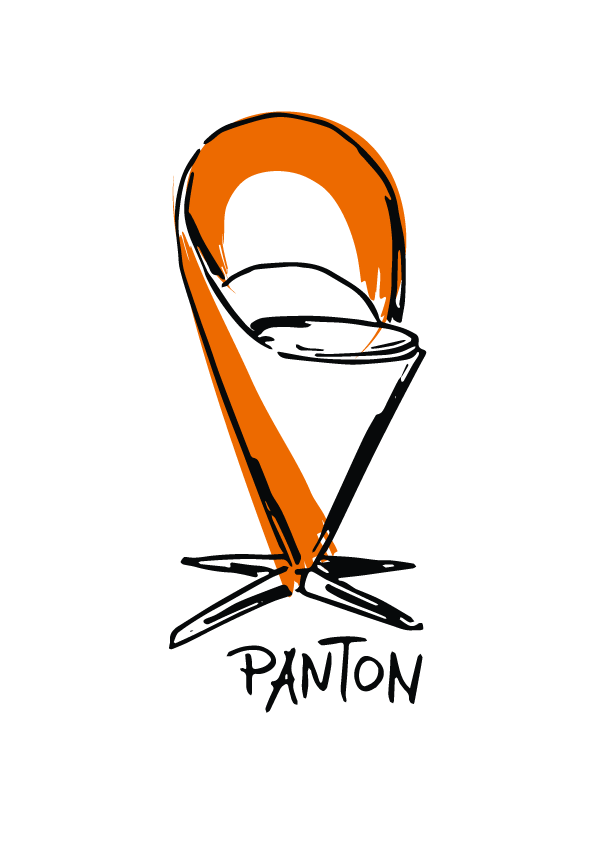 Danish designer Verner Panton (1926–1998) introduced Pop-Art to furniture design. He designed the famous cafeteria of German magazine »DER SPIEGEL«. This »cone chair« was designed for a Danish restaurant in 1958.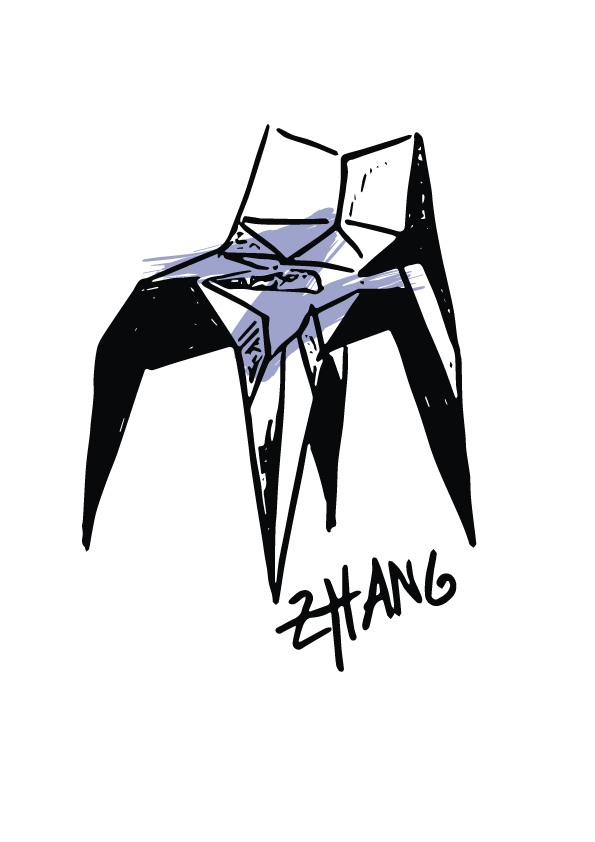 Bow Tie Chair by Chinese industrial designer Zhang Zhoujie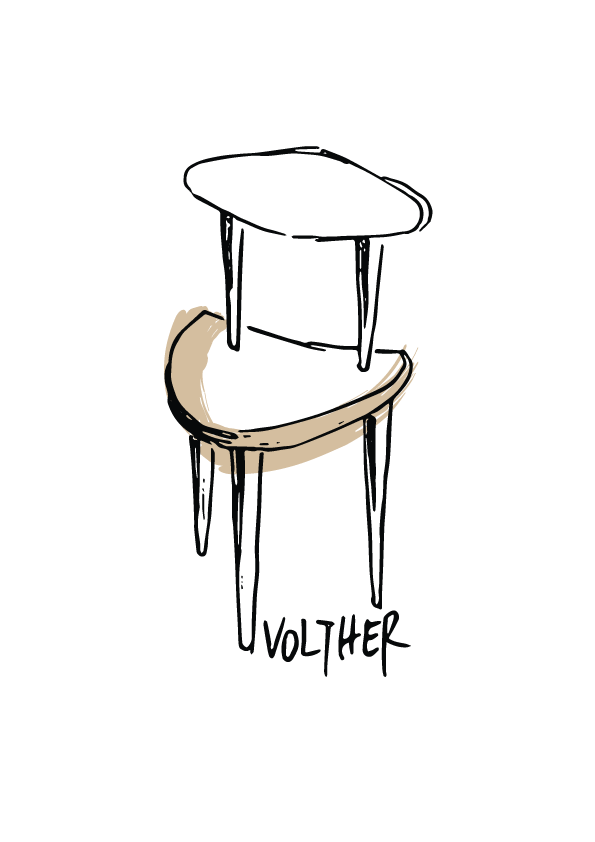 Danish furniture designer Poul M. Volther (1923–2001) concentrated on the simple crafting of materials instead of chasing aesthetic trends. This three-legged HAY J107 chair was created before the iconic Corona chair he was known for.
Italian design collective DDL – Gionatan de Pas (1932–1991), Donato d'Urbino (born 1935) and Paolo Lomazzi (born 1936) – made this chair »Joe« in the shape of a baseball glove in 1971 to honor US baseball legend Joe Di Maggio.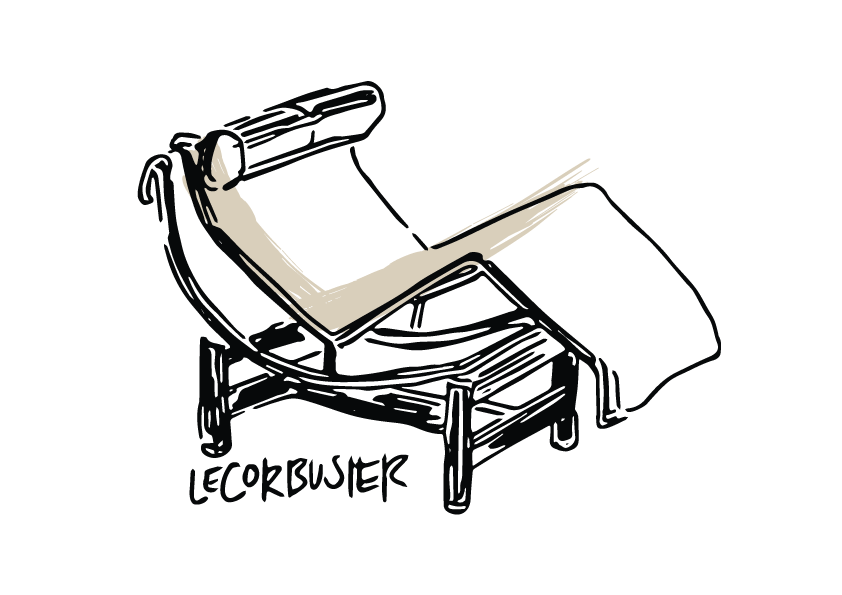 Swiss-French designer and architect Le Corbusier (1887–1965) made this Chaiselongue LC4 in cooperation with Pierre Jeanneret and Charlotte Perriand as a part of an avant garde collection for Paris Autumn Salon 1928.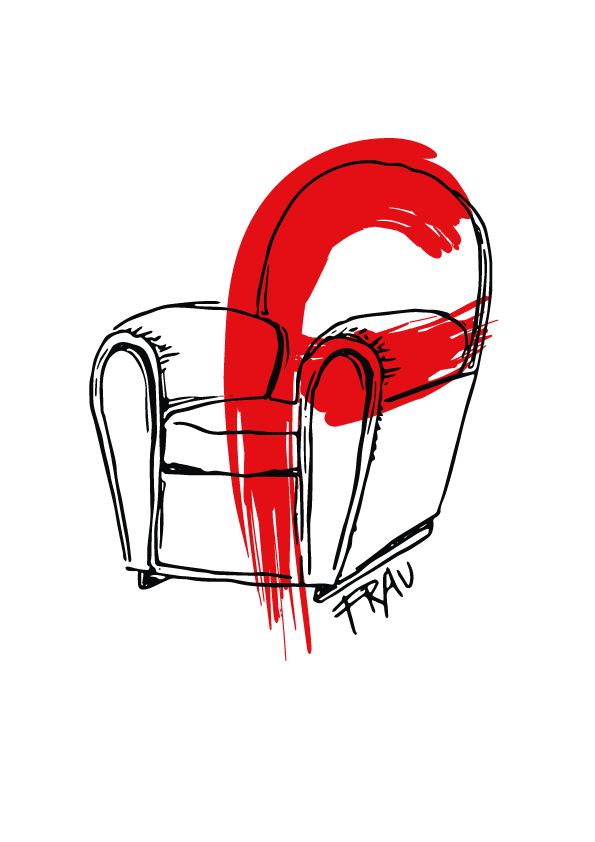 Italian designer Renzo Frau (1881–1926) started as a sales representative and imported leather chairs from Britain to Italy. Then mixed their design with continental designs and created his own line of products based on that. The Vanity Fair is a 1930 replica of the model 904 from 1903.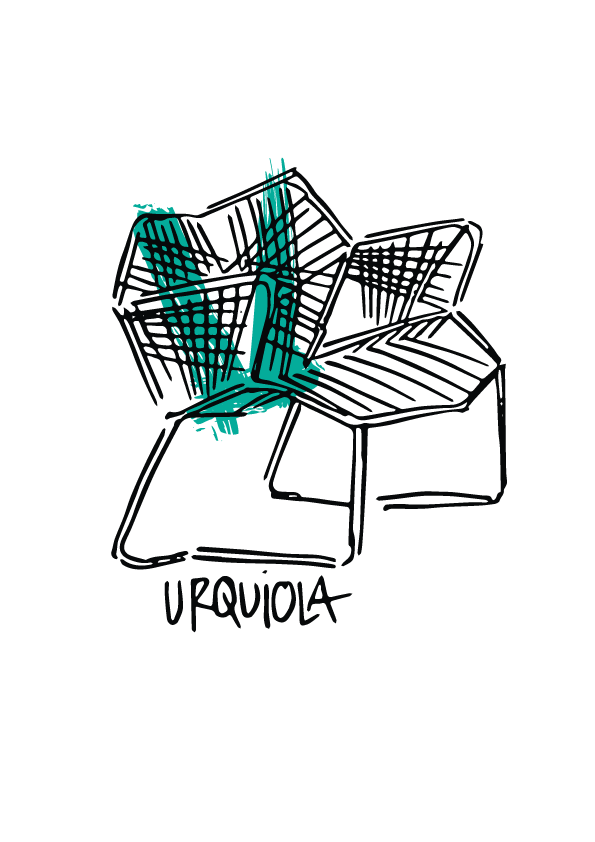 Spanish architect and designer Patricia Urquiola (born 1961) creates furniture as »tools for living that need to be fun«. Her Tropicalia chairs consist of different materials like leather or polymer threads woven on a tubular steel frame.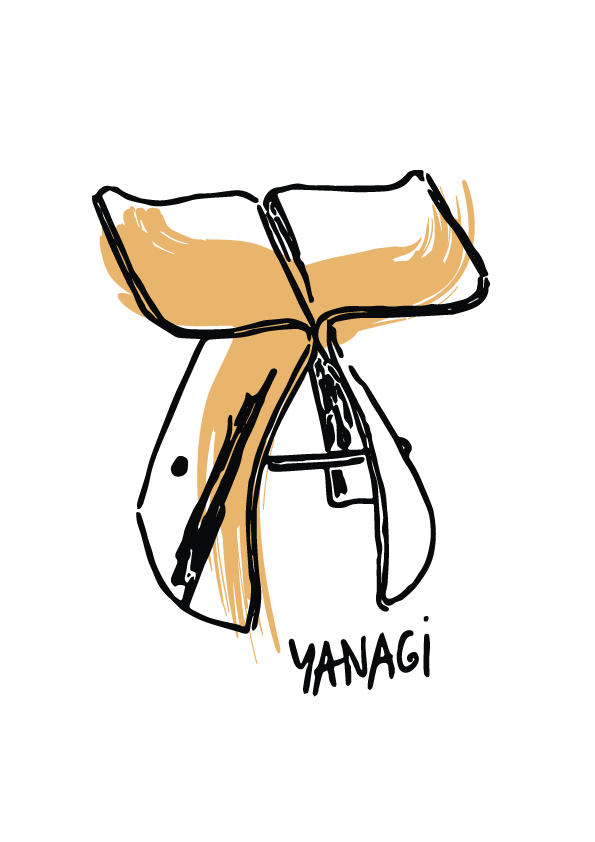 Yanagi Sori (1915–2011) was a Japanese industrial designer, famous for his seating furniture. He made the Butterfly stool in 1954. When travelling Europe he grew an interest in chairs, which until then have not been part of Japanese furniture culture. Still the Butterfly stool does not borrow any known Western forms.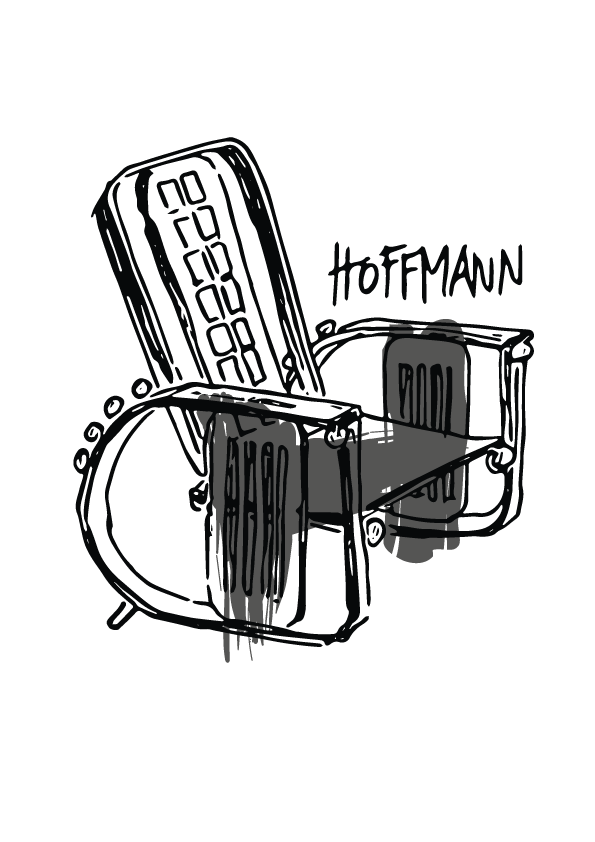 Austrian-Hungarian designer and architect Josef Hoffmann (1870-1956) was one of the founders of Viennese »Secession«, German and Austrian »Werkbund«. He designed this »Sitzmaschine« (machine for sitting) for a sanatorium. The chair's back can be adjusted.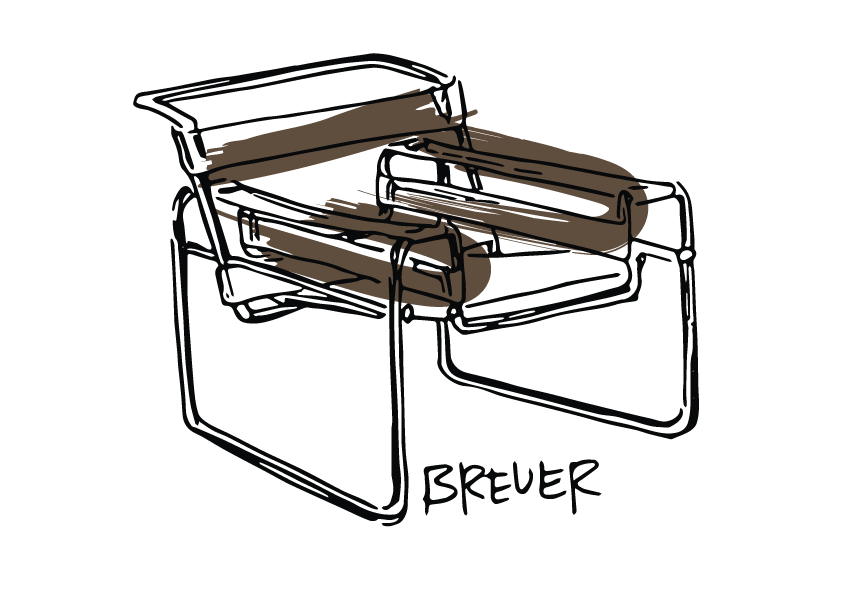 German-Hungarian-US architect and designer Marcel Breuer (1902–1981) got well-known for his avant garde furniture at a young age. He made furniture from few different parts. This chair B3 (that later became known as »Wassily«) is built from steel tube. The parts are mounted by screws.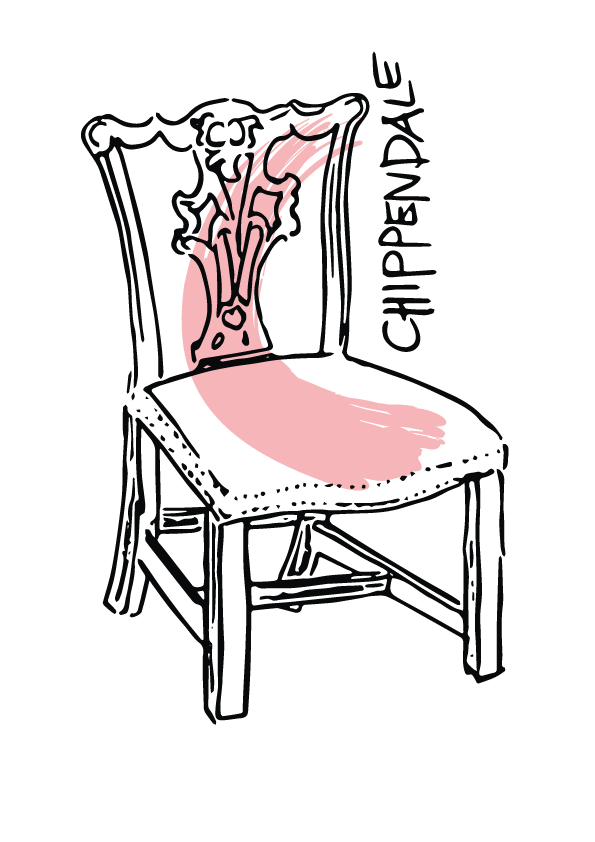 English cabinet and chair maker Thomas Chippendale (1718–1779) produced the works of others as well as his own designs. Because of his publications he has long been overrated as England's only important carpenter in the 18th century. Nowadays fewer works are assigned to him.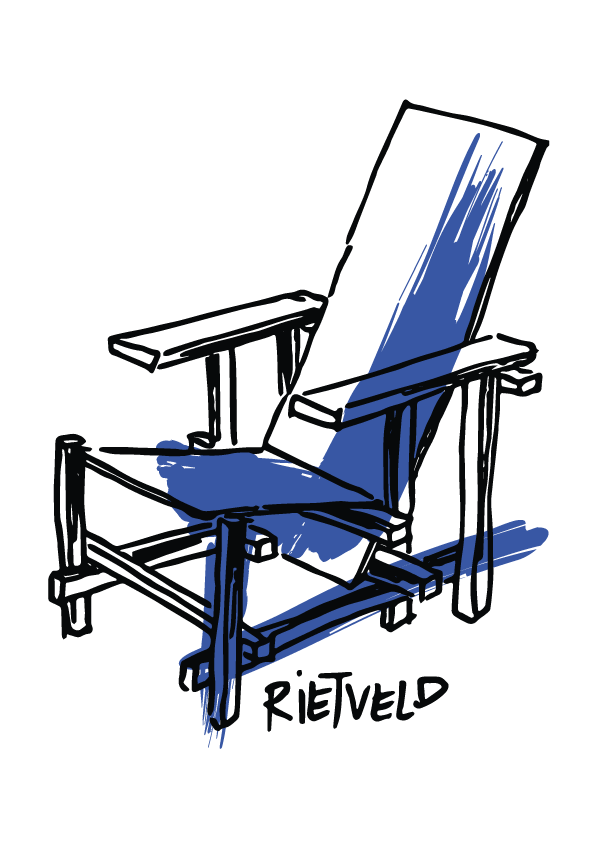 Gerrit Rietveld (1888–1964) was a Dutch architect and designer and a member of artists' cooperative De Stijl. The Red-Blue chair is one of his most famous works.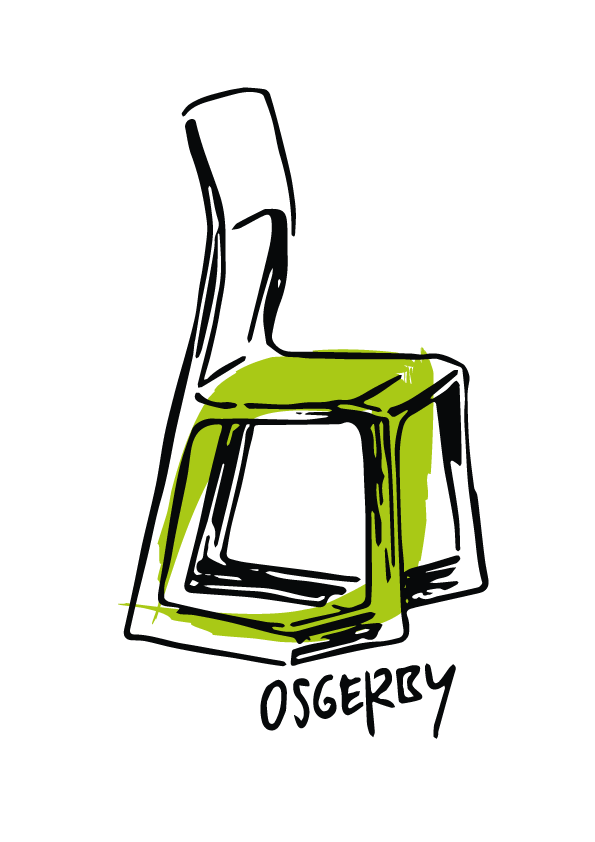 British architect and designer Jay Osgerby (born 1969) made this ergonomic chair »Tip Ton«. It's stackable and made of 100% plastic. The ability to tilt improves several body functions when seating.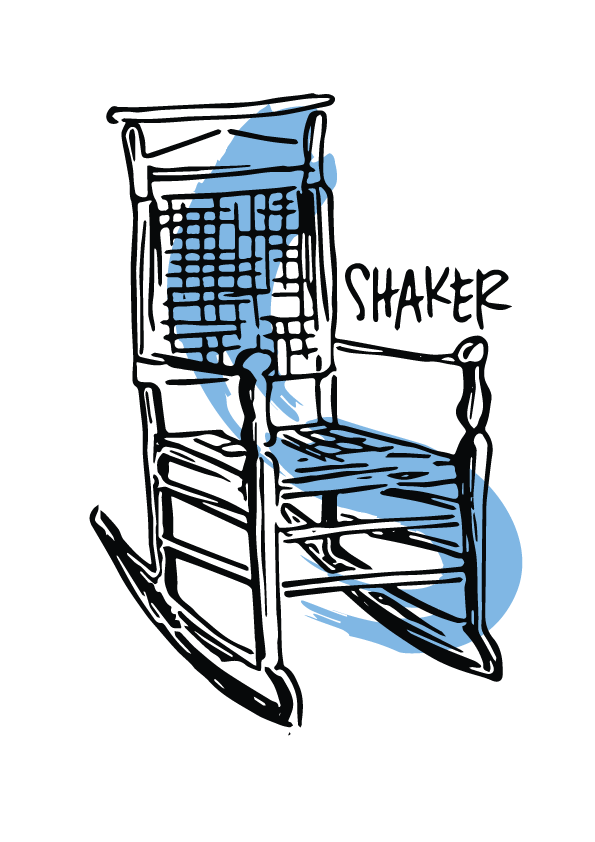 The Shakers (18th to late 20th century) have been a religious group in the U.S. They became known for the Shaker dance, their work ethics and their furniture, which is considered an independent part of artistic heritage. With the lack of ornaments and their focus on usability the furniture is related to Arts and Crafts movement and influenced the modernist movement.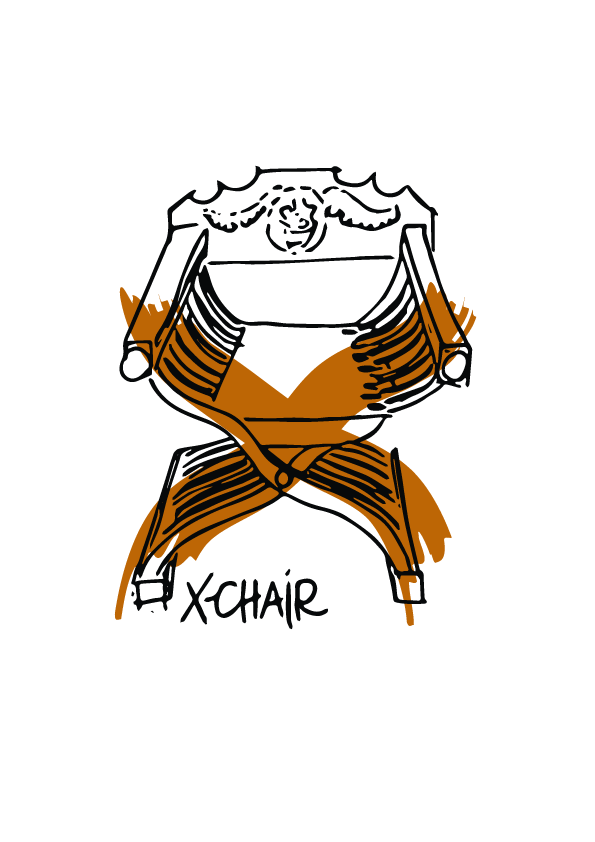 Unfortunately my alphabet concept only sort of worked, sice I couldn't find designers for Q and X. Only chairs that are named that way. This X-chair is an ancient concept of a foldable chair. It is also named scissors chair, Dante chair, Luther chair or Savonarola chair.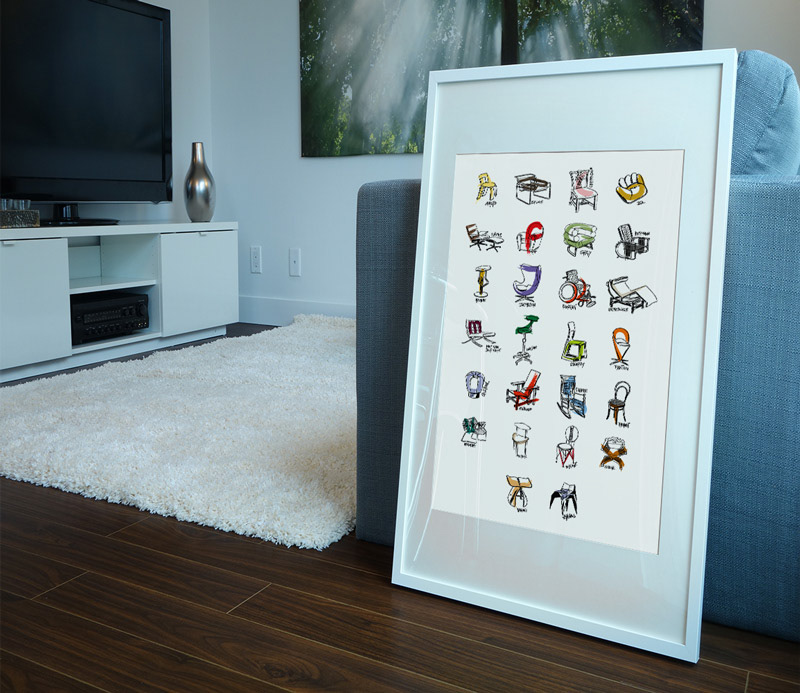 Mockup by pstutorialsws on Deviantart – thank you!